Pobierz
za darmo
PAKIET
materiałów

"BUSY BEES"

na zajęcia angielskiego

z młodszymi dziećmi
przygotowany przez redakcję czasopisma Get Creative! Znajdziesz w nim scenariusz letnich zajęć wraz z materiałami do druku.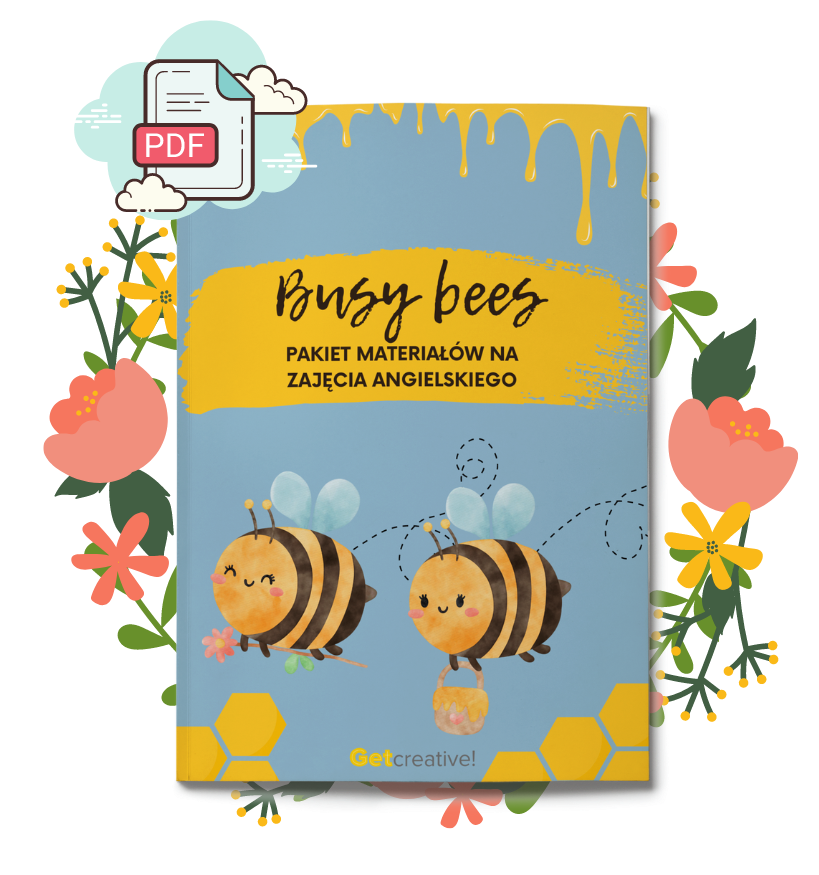 Co znajdziesz w pakiecie "BUSY BEES"?
The bees around the flowers
Scenariusz zajęć, podczas których zaprosisz pszczoły do wspólnej zabawy! W scenariuszu znajdują się pomysły na zabawy ruchowe i wpadające w ucho piosenki, które zapewnią świetną zabawę.
Materiały do druku
Korespondujące ze scenariuszem, czyli wszystko, co potrzebne do zrealizowania zajęć m.in.
Flashcards INSECT, szablony kolorowych kwiatów, opaski na głowę, szablony ula i pacynek paluszkowych z pszczółkami, pacynki owadów

PAKIET materiałów został przygotowany przez redakcję czasopisma
Get Creative!
Dla nauczycieli angielskiego, w którym publikujemy sposoby na atrakcyjne i skuteczne zajęcia języka angielskiego w przedszkolu i klasach I-III
Platforma
z gotowymi materiałami
Tysiące
pomysłów i materiałów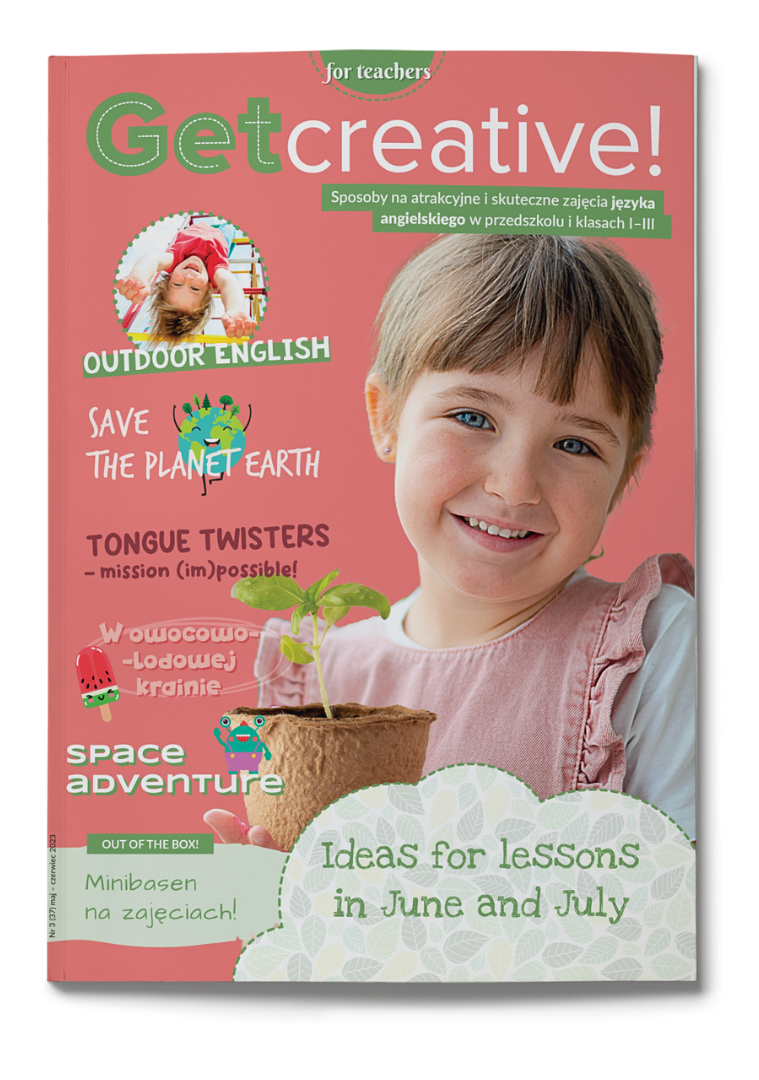 Dlaczego warto prenumerować czasopismo
Get creative?
Pomysły na ciekawe lekcje
Zaczerpnij pomysł i odważ się przeprowadzić lekcje inne niż wszystkie.
Szczegółowe scenariusze nietypowych zajęć
Skorzystaj ze szczegółowych scenariuszy zajęć i połącz naukę z zabawą.
Materiały na zajęcia do pobrania
Korzystaj ze WSZYSTKICH materiałów zamieszczonych w strefie premium m.in. kart pracy, plakatów, gier, flashcards, edytowalne scenariusze, muzyka, zdjęcia do wykorzystania na zajęciach. Wszystko dostępne bez limitów i ograniczeń.
Wskazówki do przygotowania pomocy dydaktycznych
Wykonaj własne, bezkosztowe pomoce dydaktyczne, a także skorzystaj ze wskazówek metodycznych doskonalących warsztat nauczyciela.
Nagrania z tematycznych szkoleń
Oglądaj tematyczne szkolenia online w dowolnym czasie bez ograniczeń, pobieraj materiały i certyfikaty.
Wydanie elektroniczne


Szukaj inspiracji nie tylko w bieżącym numerze, ale także w całym archiwum. Czytaj online na komputerze lub dowolnym urządzeniu mobilnym.
Poznaj nasz zespół redakcyjny
Bezpłatny
zł 0,00

rezerwacja miejsca
w praktycznym szkoleniu prowadzonym przez doświadczonego i cenionego specjalistę

możliwość zadawania pytań prelegentowi w trakcie trwania spotkania

certyfikat


potwierdzający uczestnictwo w szkoleniu

-

do pobrania wyłącznie w trakcie szkolenia
Komfortowy
zł 59,00

rezerwacja miejsca
w praktycznym szkoleniu prowadzonym przez doświadczonego i cenionego specjalistę

możliwość zadawania pytań prelegentowi w trakcie trwania spotkania

certyfikat


potwierdzający uczestnictwo w szkoleniu

-

do pobrania przez 30 dni po szkoleniu

dostęp do nagrania
przez 30 dni po zakończeniu webinarium